RNC'S NEWSLETTER OF OCTOBER 22, 2021 – SHARED BY PETER M. FEAMAN
Republican National Committee
RNC WEEKLY NEWSLETTER – OCTOBER 22, 2021
Peter M. Feaman
National Committeeman for Florida
Welcome to the RNC weekly newsletter – The Republican Week – bringing you the biggest moments from the week.
THE MAIN THING: RNC Launches New Ad Slamming Democrats' Attacks on Parents
The Republican National Committee (RNC) released a new ad slamming Democrats' plan to silence parents who want a say in their kids' education. As Democrats continue to prioritize their political agenda over students, Republicans continue to fight for parents' right to oversee their children's education. 
FOX News reported: "Republicans have contested that following nearly two years of strict COVID measures and arguments about the role of critical race theory in schools, parents want a greater say in their children's education."
Why this matters: "Democrats want to control our children's education and silence parents who have an opinion."
RNC Chairman Ronna McDaniel: "The American people know the truth – parents, not unions or bureaucrats, are best equipped to oversee their children's education."
How we got here: Biden and Democrats feel entitled to imposing their values and beliefs on your children.
Biden made the unprecedented decision to weaponize the Justice Department and FBI against parents who question their children's curriculum.
Biden's Attorney General Merrick Garland admitted this week DOJ launched probe into concerned parents
Democrat Virginia gubernatorial candidate Terry McAuliffe claimed that parents shouldn't be "telling schools what they should teach." 
Bottom Line: Republicans believe that parents—not government bureaucrats—are best equipped to understand their kids' needs and that every child in America should have access to quality education, regardless of zip code. 
______________________________________________________________ 
Red State Rebound: Republicans Lead on Jobs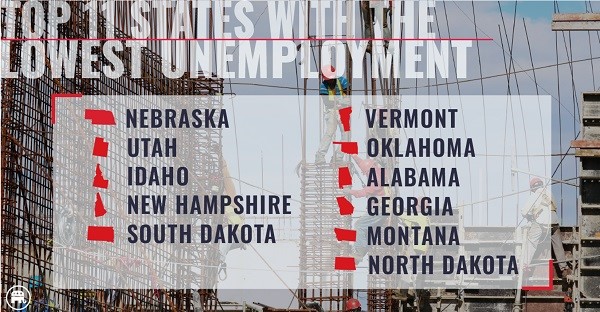 The data is clear: States with GOP leadership are showing stronger job recovery and lower unemployment. The U.S. Bureau of Labor Statistics released state jobs numbers on Friday showing Republican policies work.
Jobs recovered:
17 of the top 20 states for jobs recovered from the pandemic are led by Republicans
The top 14 states are all led by Republicans
Unemployment rate:
16 of the top 20 states with the lowest unemployment rates are Republican-led
The top 11 states with the lowest unemployment rate are Republican-led
Nine states – all Republican – have unemployment rates at or lower than where they were before the pandemic began
The numbers don't lie: Republican governors and legislatures continue to deliver commonsense, conservative economic leadership amidst the devastating policies of Biden's Build Back Broke agenda," said RNC Chairwoman Ronna McDaniel.
"Red states continue to attract working families and small businesses alike with strong local economies and pro-small business policies."
While blue state governors promote anti-growth policies that have kept businesses locked down and incentivized workers to stay home collecting unemployment, Republicans are delivering an economic recovery.  
______________________________________________________________
HISTORIC HIGH: Nearly 200k Illegal Immigrants Apprehended In September
Biden's Out of Control Border Crisis: In September, 192,001 illegal immigrants were apprehended attempting to cross the U.S.-Mexico border, making this the highest number for September in DHS history. 
It's a 233 percent increase over last September, and a 300 percent increase from the average number of September apprehensions during the Trump administration.
14,358 unaccompanied children were apprehended. 
Over 1.4 million illegal immigrants have been caught attempting to cross the border since Biden took office.
 Biden hasn't been to the border in at least 10 years, or ever. CNN confirmed FOX News reporting, raising serious doubt if Biden has ever been 
Biden lied on Thursday night during a CNN townhall, saying: "I have not had a whole hell lot of time to get down" to the border. Yet, he has spent most weekends at his beach home. 
In both July and August, there were over 200,000 illegal immigrant encounters.
Bottom Line: Biden's border crisis is out of control.
 ______________________________________________________________
NEW EPISODE: "Real America" Podcast Featuring Rep. Tony Gonzales
In the latest episode of "Real America," Chairwoman Ronna McDaniel sat down with Texas Congressman Tony Gonzales to discuss the crisis at our border, Joe Biden's disastrous withdrawal from Afghanistan, and Democrats' wasteful spending.
This podcast release was in conjunction with the grand opening of the RNC's new Hispanic Community Center in Congressman Gonzales' district in San Antonio, Texas. 
More from Townhall: Hispanic-American GOP Congressman Tony Gonzales has a few thoughts on Dems pushing open borders
"Just get involved. You'd be amazed on how much less powerless you'll feel as you're starting to get involved in there. That's how we save this country. But it's not just the people in Congress, it's all of us." – Rep. Gonzales
 ______________________________________________________________
Making Inroads: RNC Opens Two New Community Centers
This week, the Republican National Committee opened two new community centers.
Our Black American Community Center in College Park, Georgia opened on Wednesday.
Our newest Hispanic Community Center opened in San Antonio, Texas. It's the third such office we've launched in the Lone Star State. 
Why this matters: The RNC is making inroads and investments in minority communities ahead of 2022. 
Paris Dennard, RNC National Spokesperson and Director of Black Media Affairs, said: "We know that there are Black Republicans, and we are not a monolith when it comes to our vote bloc. And so we use it as a place where people could come and get information."
Jaime Florez, RNC Hispanic Communications Director, said: "This is the party of freedom and opportunities, and most Hispanics came to this country fleeing from those socialist ideas that we had in our countries."
Key component of our strategy: Building relationships with minority communities Democrats have long taken for granted. Republicans are excited to take our message of freedom, economic opportunity, and family values to voters in every community across the country. 
Track record: In 2020, Republicans netted 15 seats in the House of Representatives. In each of those seats that flipped to the GOP, the elected winner was either a woman, minority, or veteran.