Hello Friend,
Welcome to my e-newsletter, the Ready Room. As a retired Naval Aviator, the Ready Room is special to me because it's where fellow aviators meet to brief and debrief missions. This is my weekly briefing to you on my mission in Congress. Please follow me on Facebook , Twitter , Instagram  and YouTube for regular updates on how my team and I are working to serve you in Congress.
Responding to the State of the Union
Congressman Franklin in the Cannon House Office Building
Last Tuesday, I attended President Joe Biden's State of the Union Address. While President Biden was quick to point to his alleged successes, the American people know better. Under his watch, American families are struggling with the highest inflation in 40 years, gas prices are skyrocketing, drugs are pouring into our open border, violent crime is up in our communities, and the disastrous withdrawal from Afghanistan has emboldened our adversaries like Russia, China, Iran and North Korea.
While these are serious challenges our nation is facing, I have faith that we can restore a brighter future. Florida has led the way with sound, conservative solutions that respect our freedoms as Americans. If our federal government followed suit, we would be in a much better place. As we Floridians like to say, it's time to Make America Florida. Click here to read my full statement. 
Missed Opportunity to Help Veterans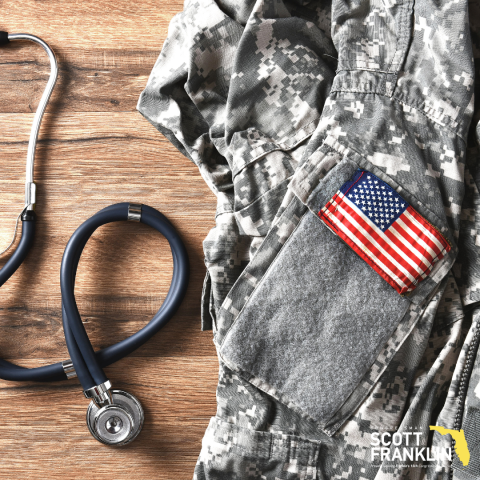 Many veterans who deployed to the Middle East and Afghanistan were exposed to toxic fumes emanating from burn pits. This exposure has caused severe health complications. Last month, the Senate unanimously passed S. 3541 , a bill to provide resources to help burn pit victims. The House should have passed this bill, but unfortunately, we had to vote on an overly broad bill that would extend benefits to many veterans who were never exposed. I know this to be a fact, because under the House bill's criteria, I would be eligible for these benefits, even though I was never near a burn pit during my Navy career. We have a duty to care for our veterans, especially those who have been injured, and I will always stand up for my fellow veterans. But we must also ensure our VA system isn't prevented from helping those in need because it is overwhelmed with cases that don't truly belong in the system. That's why I voted against the House version of the bill. Congress must resolve the differences between the House and Senate bills so veterans exposed to burn pits will finally receive the care they need and deserve.
Want a Flag Flown Over the US Capitol?
Did you know that flags may be purchased through our office and flown over the U.S. Capitol to honor a special event or commemoration? All flag purchases include a dedication message, which may be personalized for a particular person, event, or organization. For more information, click here.
Constituent Corner  
Daniel is an active-duty U.S. Air Force member stationed at Spangdahlem Air Base, Germany. While assigned there, his wife gave birth to their daughter. After obtaining her Consular Record of Birth Abroad (CRBA), they unsuccessfully tried to obtain her Social Security Number and Card. After reaching out to our office, my staff helped Daniel get what he needed. If you need assistance with a federal agency, please call our Lakeland office at (863) 644-8215 or visit my website at  franklin.house.gov.
I'm honored to represent you in Congress. For more information on constituent services, current legislation and to sign up for my e-newsletter, please visit my website at franklin.house.gov . 
Best regards,
C. Scott Franklin
Member of Congress